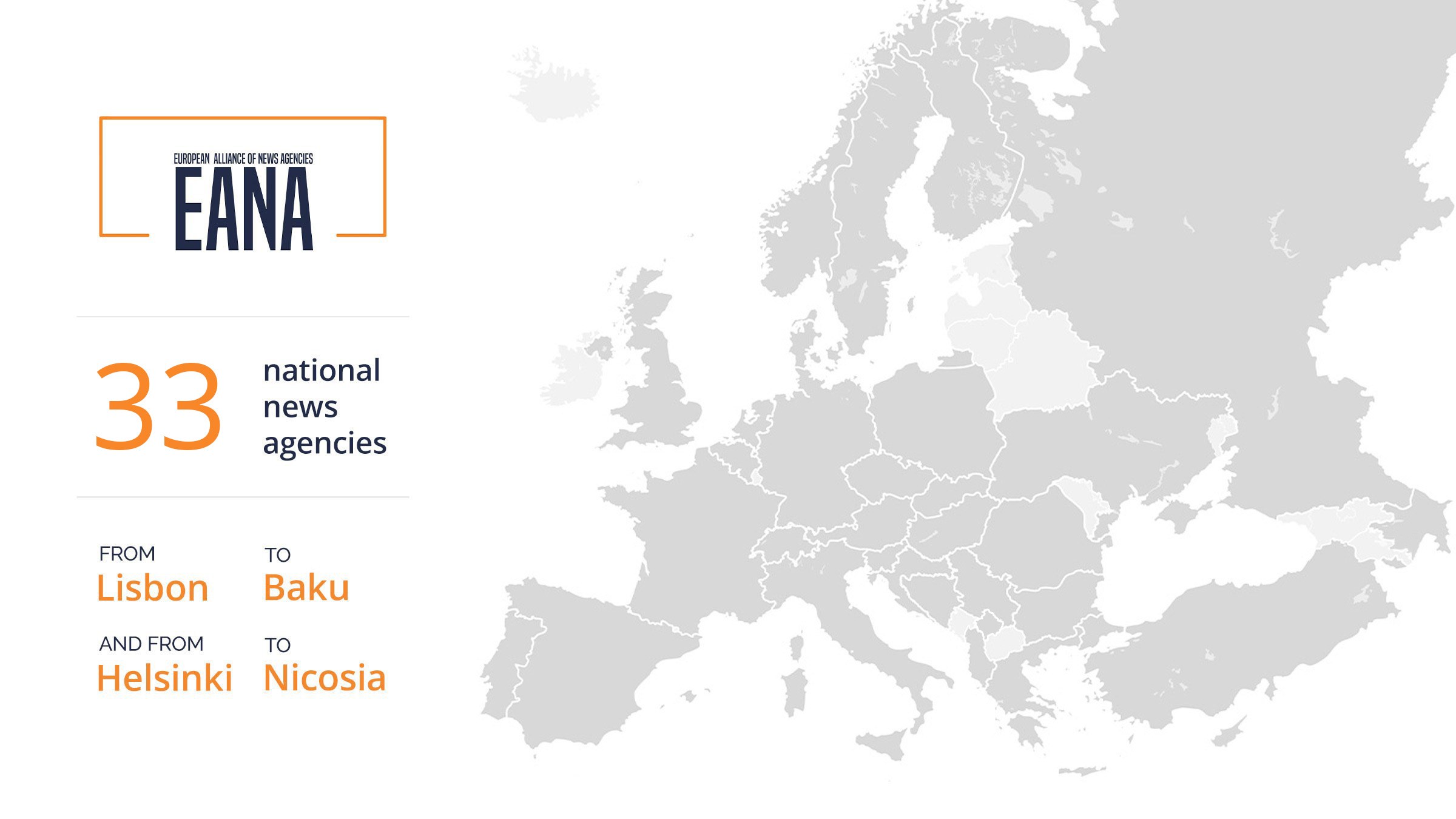 About The European Alliance of News Agencies (EANA)
EANA was founded on August 21, 1956 in connection with a conference on new media technology held in Strasbourg. EANA´s founding fathers were West European news agencies, Anadolu Agency (Turkey) and Tanjug (Yugoslavia). In 1970, agencies behind the so called "iron curtain" were invited to join. EANA´s predecessor Agences Alliées was founded in 1924 and was active until the World War II when the activities were discontinued. EANA serves as a forum for cooperation and exchange of information and experiences among European news agencies. EANA´s operations are financed by membership fees.

EANA is registered at the Trade Register in Berne, Switzerland as a non-profit membership association (reg number CH-035.6.031.208.5)

The news agency business constitutes the very basics of news gathering and distribution. It is a business that needs a healthy environment abounding in freedom of the press, fair competition and simple and basic rules to operate. The members of the European Alliance of News Agencies (EANA) are engaged in the promotion and the preservation of this environment.

Around 30 leading European news agencies have decided to pool their resources to create a common platform on key issues such as copyright, tariff policy, technology and access to sources of information. This is the main force behind EANA. The organisation is powered by each of the member companies representing around 30 European countries with around 750 million inhabitants.

The member agencies are first of all providers of news stories and also of pictures, graphics, radio and video reports and other information to both traditional media and new media environments created by the rapid development of modern information technology.

News agencies working in accordance with the principles of press freedom and unbiased news are of major importance to the democratic society. To secure an economic and legal environment for news agencies operating in accordance with these rules is therefore one of EANA´s main concerns.

Major objectives for EANA are:
To secure a business environment where news agencies can fulfil the task of independent and unbiased news reporting. This includes recognition of copyright and related rights for news agencies and access to sources of information.

To promote co-operation and information exchange between member agencies.

To offer member agencies a Pan-European professional forum for discussions and exchange of experiences and know-how by organising seminars, workshops etc

European Alliance of News Agencies and Copyright and Related Rights:
Copyright and Related Rights for news services are of paramount importance to secure a business climate that ensures that news agencies can fulfil their role as providers of unbiased news to media and other clients. The importance of these rights is stressed by the technological transformation taking place in a market without borders. It is essential that legislation on all levels concerning intellectual property rights recognises the intellectual and financial efforts invested by news agencies gathering all kinds of news. Unauthorised use of news agency services undermines the operations of independent news agencies as news providers that citizens can rely on to be informed on developments in all areas from politics and economics to sports